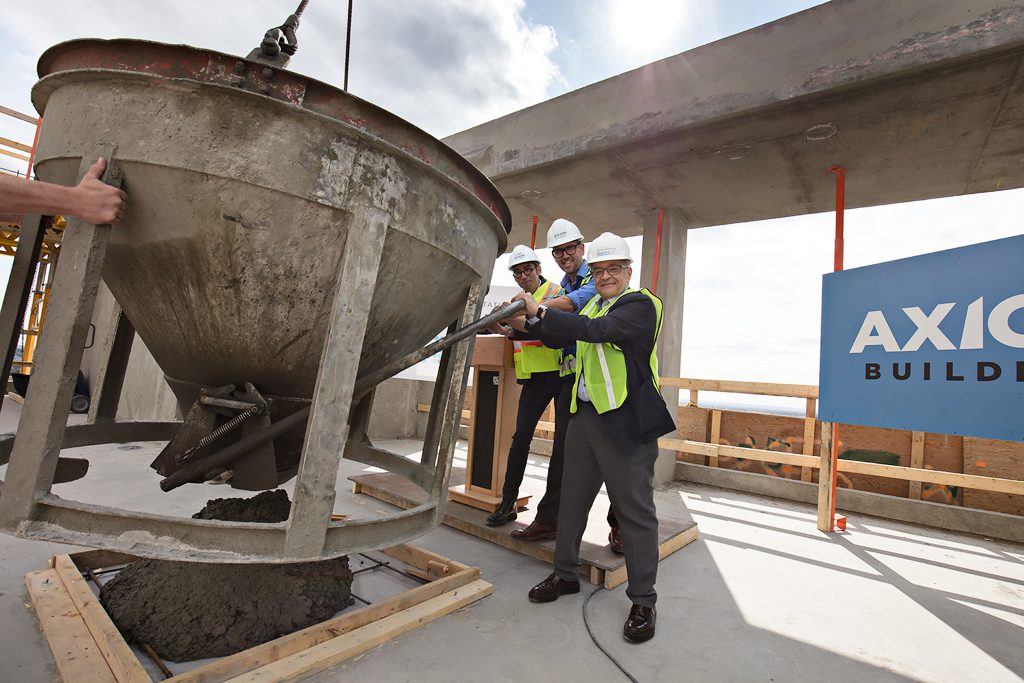 The most prolific high-rise condo builder in Calgary's Beltline already has plans about what the next tower will look like.
A picture of what Vancouver-based Qualex-Landmark™ has in store for its most popular construction location on the shoulder of the city's downtown was talked about following the recent topping-off ceremony for the company's $110-million-dollar, 34-storey Park Point project — the first of two mixed-use towers on the property.
Plans remain fluid for the moment on the tower that will share a site adjacent to the just completed Park Point across from Central Memorial Park, says Parham Mahboubi, Qualex-Landmark™ vice-president of planning and marketing.
"The preliminary concept shows the second tower at 26 storeys, but that could change a bit in the final design. And we don't know if it's going to be called Park Point II or whether it takes on an entirely different brand and name. So, the short answer is 'we don't know yet,'" he says.
While Calgary continues to regain economic ground lost during the most recent oil-fuelled recession, Qualex-Landmark™ has not settled on a specific date for the start of the next tower, either.
"We don't have a definitive date for launch of the second tower yet. However, we will be considering pre-construction sales of it when the first tower is virtually sold out," Mahboubi adds.
Currently, more than 70 per cent of Park Point's 288 one-, two- and three- bedroom residences and townhomes have been snapped up since construction on the tower started in the fall of 2015.
"We are thrilled to be delivering another iconic condo tower in Calgary's Beltline community," says Qualex-Landmark president Mohammed Esfahani. "And we look forward to welcoming our homeowners next summer."
Designed by IBI Group, Park Point has a long list of indoor and outdoor amenities and a unique vertical look to it. As the building rises, the floorplate grows, creating a stepped effect with colour enhancing the pattern. From the street, a double-height lobby with distinctive canopy will just add to the prestigious feel of the tower. Located atop the tower podium on the third floor, Park Point will have nearly 9,000 square feet of amenities, including a Zen terrace with seating and water feature, a second area with fire pit, barbecue, and harvest table, and a sun deck overlooking Central Memorial Park.
Inside Park Point is a state-of-the-art fitness centre, yoga and pilates studio, steam room, sauna and change rooms with showers.
Park Point is the latest in a string of projects by Qualex-Landmark in the Beltline, following in the wake of Calla, Stella, Nova, Luna, and Mark on 10th.
Matter of fact, in the past decade the company has accounted for some $400 million worth of construction and has contributed 1,000 new high-rise homes to the neighbourhood.
"Not many can boast about such an accomplishment," says Esfahani, adding that the company has always been bullish about Calgary and its real estate market.
"We've already been through two economic swings over the last 12 years, and we have always persevered, just as we have with Park Point. Our commitment to homebuyers and our faith in Calgary has enabled us to succeed with Park Point," he says.
Park Point, though, is the first Esfahani has completed without his business partner Reza Navabi, who passed away in April.
"As partners, we have tried to be visionaries with a great passion for the projects we develop, and we have tried to always deliver on our promise to homeowners. We are extremely proud of achieving another milestone with the topping off of our Park Point tower," he said during the rooftop ceremony. CL
By Mart Hope, Hope At Large