When Zach Silbernagel took his first step into home ownership, he wanted an area with built-in walkable amenities and quickly saw the city's Beltline district as a natural fit.
Silbernagel bought a one-bedroom condo at stylish 34-storey skyscraper Park Point. The aptly named project will sit across from Central Memorial Park at 310 12th Ave. S.W.
The historic park stretches two hectares and features a cafe, library and pathways. But when it comes to what makes the Beltline a desirable neighbourhood, its green space is only the beginning.
Silbernagel grew up in Calgary but spent time on Canada's east coast, where he developed his taste for having shops and services just a quick walk away.
"I went away to go to school in Halifax, a much smaller city and very concentrated on this one peninsula," says Silbernagel. "You get really used to having all the amenities within a couple of blocks and where I was living, I got used to walking around and going to the trendy shops and whatnot."
When he moved back to Calgary, Silbernagel didn't want to give up the convenience of having amenities nearby.
"I needed to try and get a little bit closer to the action," adds Silbernagel. "More in line with being downtown and all the cool stuff that they've got going on down here."
The Beltline delivered that. Park Point's site is a short distance from a long line of eclectic restaurants, pubs and other small businesses.
For Silbernagel, the location also made sense because of its proximity to his office on 17th Avenue S.W. "It's literally a few blocks away," he says. Silbernagel is a project manager who says he's also aiming to startup his own cheesecake business.
When shopping for a downtown condo, Silbernagel stopped at Park Point's sales centre at 301 11th Ave. S.W. The sales centre features two examples of what a condo in the tower can look like.
"When I went in and checked out the show suites, I basically melted," says Silbernagel. "They are so nice. Beautiful in terms of the way that they are setup and the style of them. I felt like I was in a luxury hotel room or something."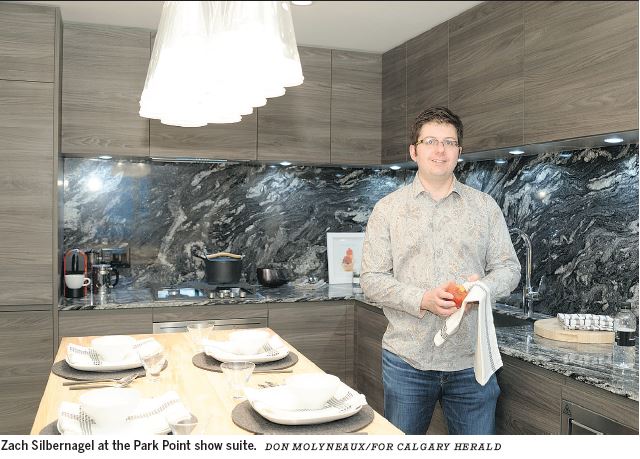 The show suites give condo buyers a clear picture of what's possible at Park Point, says Parham Mahboubi, Qualex-Landmark's vice-president of planning and marketing. Qualex-Landmark is the developer behind Park Point along with other downtown condo towers Mark on 10th, Calla, Luna, Nova and Stella.
"We receive tremendous feedback about the outstanding finishes, which is among the biggest selling points of the homes," says Mahboubi. "These include for example, the real granite slab countertops and backsplash, Italian Armony Cucine cabinetry, superior appliance package, finishings and accessories. In many ways, the suites present themselves as works of art."
Silbernagel's condo measures 588 square feet and boasts a one bedroom plus den orientation. The largest one bedroom plus den floor plan is 646 square feet. There are also two bedroom and two bedroom plus den floor plans ranging from 863 to 1,092 square feet. On the sub-penthouse and penthouse levels, two bedroom plus den options reach 1,340 square feet and three bedroom floor plans get up to 1,630 square feet.
Condos feature Armony Cucine cabinets and stone slab counters in the kitchen and bathrooms. Building amenities include a spacious lobby with a fireplace, fitness facility, social space with a kitchen, and steam room and sauna with change rooms.
Silbernagel's condo is on the 28th floor and faces west, which will bring sweeping sight lines.
"(This) means I'm going to have a park view as well as the mountain view," he says. "Waking up every morning and looking out your window at the mountains, if that doesn't make you feel like a million bucks, I don't know what would."
WHAT YOU NEED TO KNOW
PROJECT: Park Point
DEVELOPER: Qualex-Landmark
AREA: The Beltline is a historic district in southwest Calgary
PRICES: From the mid-$200,000s
HOURS: The sales centre is open Saturday to Thursday noon to 5 p.m.
INFORMATION: qualex.ca/parkpoint
By: Josh Skapin